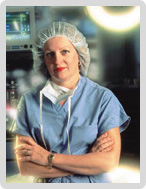 Dr. Wells is a Female Plastic Surgeon who is double board certified by the American Board of Plastic Surgery and the American Board of Surgery. Prior to that, she graduated summa cum laude from Ohio University with a B.S. degree and received her M.D. degree from Ohio State University College of Medicine. Selected by her peers, Dr. Wells has been included in the book "The Best Doctors in America" every year from 1996-97 to 2009-2010 editions. She was included in the Best Doctors for Breast Cancer Treatment in the October 2003 Redbook magazine.

RHINOPLASTY


Surgery to reshape the nose is a common cosmetic procedure that can have profound results...



EYELID SURGERY


Eyelid surgery, or blepharoplasty, corrects for sagging upper eyelids and for the bags that form just below the eyes...



FACELIFT


Facelift is a procedure performed in order to reverse the effects of age, gravity, exposure to the sun, and daily stress...




BREAST AUGMENTATION


Breast Augmentation is a procedure to increase the size and/or alter the shape of a woman's breasts...



BREAST LIFT


A breast lift, or mastoplexy, is a surgical procedure that reshapes and cosmetically alters a woman's breasts...



BREAST RECONSTRUCTION


This procedure recreates the size and shape of the patient's natural breast and can renew a woman's sense of beauty...




LIPOSUCTION


Liposuction is a surgical procedure which extracts fat from specific areas of the body...



ABDOMINOPLASTY


A tummy tuck is a surgical procedure that extracts surplus fat and tissue from the abdominal region...




JUVÉDERM®


JUVÉDERM® is an injectable gel that helps to instantly restore your skin's volume and smooth away facial wrinkles...



RESTYLANE®


Restylane® adds volume and fullness to the skin to correct moderate to severe facial wrinkles and folds...