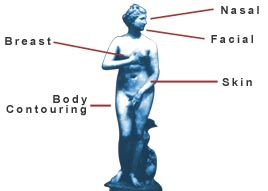 Click on the area that you are interested in.
Surgery to reshape the nose is a common cosmetic procedure that can have profound results on a person's appearance and self-confidence. Rhinoplasty can accomplish any number of changes, including size augmentation or reduction, a narrowing of the nostrils, changes in the bridge or tip of the nose, or an alteration to the angle of the nose and upper lip. Regardless of the specific purpose, surgery to reshape the nose creates a more contoured and shapely nose.
---
The area surrounding the eyes is one of the first to show the signs of aging. Eyelid surgery, or blepharoplasty, corrects for sagging upper eyelids and for the bags that form just below the eyes. Eyelid surgery can wash away years of aging, giving your eyes a smoother, more natural, and youthful appearance.
Facelift (Rhytidectomy)
Facelift is a procedure performed in order to reverse the effects of age, gravity, exposure to the sun, and daily stress. Removing excess fat, tightening facial muscles, and readjusting the facial skin accomplish this. A facelift may be done in combination with other facial procedures such as a forehead lift (brow lift,) eyelid surgery (blepharoplasty,) or a nose job (rhinoplasty.)
---
Breast Augmentation is a surgical procedure to increase the size and/or alter the shape of a woman's breasts through the use of silicone. Women may choose to have this operation either as a reconstructive technique following breast surgery, to balance different sized breasts, or to enhance the contours of the body. Whatever the specific purpose, women who undergo breast augmentation can expect larger, firmer, and more visually satisfying breasts.
Breast Lift
Over time, the natural aging process can cause a woman's breasts to sag and lose their shape. A breast lift, or mastoplexy, is a surgical procedure that reshapes and cosmetically alters a woman's breasts. After the procedure, women can expect firmer, more shapely, and youthful looking breasts.
Breast Reconstruction
For many women diagnosed with breast cancer, mastectomy, or breast removal, is an unfortunate and inescapable option. Women who have undergone this surgery can choose to have breast reconstruction. This procedure recreates the size and shape of the patient's natural breast and can renew a woman's sense of beauty and femininity.
---
Inherited traits often prevent people from achieving their desired body shape. Even years of exercise may not yield significant or noticeable results in certain people. For many, the answer is liposuction, a surgical procedure which extracts fat from specific areas of the body. Following the procedure, patients can expect a slimmer, more shapely figure.
Abdominoplasty
(Tummy Tuck)
A tummy tuck is a surgical procedure that extracts surplus fat and tissue from the abdominal region. It is especially helpful for men who retain excess weight in their mid- sections and in women who have undergone multiple pregnancies. Following abdominoplasty, patients can expect a flatter, more contoured, and visually satisfying stomach.
Collagen
When we are young, our skin is soft and elastic, free from the facial lines and tissue damage that time, injury, and disease can cause. This youthful looking skin is due, in a large part, to collagen, the fibrous protein that forms the underlying support layer beneath the skin. Over time, the skin's network of collagen begins to weaken, causing the skin to lose its elasticity. Collagen injections have been used for decades to replenish the skin's suppleness and help maintain its youthful appearance. Collagen Replacement Therapy is a safe, nonsurgical treatment that can even out facial lines and scars, as well as improve the look of specific parts of the body.
---
No matter how well skin is preserved and pampered, everyone eventually develops facial wrinkles. Fortunately, there are a number of options available to remove the lines that accompany aging. Botox is perhaps the easiest of all these options. Botox is an extremely quick approach to soften or remove the natural wrinkles between the eyes (frown lines), on the forehead, at the sides of the eyes (crow's feet), or at the base of the nose (glabellar frown lines).
Skin Cancer
As Americans spend more time in the sun, and as the earth's ozone layer continues to be depleted, ultraviolet radiation poses an ever-increasing risk to humans. Each year, a half million new cases of skin cancer are reported, making it the fastest growing form of cancer in the United States. Although a potentially fatal condition, even the most dangerous form of skin cancer, if detected early enough, can be treated and cured.